<![if !vml]>

<![endif]>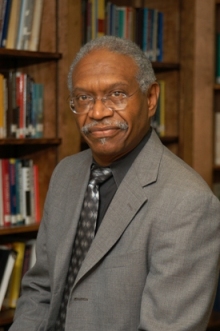 Dr. William H. Hardy, Philosopher/Theologian
Philosophy and Religious Studies Tennessee State University
William H. Hardy is an associate professor of philosophy and religion and coordinator of the Jericho Project at Tennessee State University, a program designed to attract students to careers in philosophy, religion and the law. Hardy teaches courses in the Introduction to Philosophy, African Philosophy, African American Philosophy, and religious courses in African Roots in Christianity, the Hebrew Bible (Old Testament), the Greek Bible (New Testament) and World Religions. Academic research has been performed as a Visiting Scholar at the Social Philosophy and Policy Center, Bowling Green, Ohio; International research at the University of Nairobi and the Maryknoll Institute of African Studies, Nairobi, Kenya, East Africa.
A life long member of the African Methodist Episcopal Church (AMEC), Hardy is an ordained elder and has pastored churches in Kentucky, Ohio and Tennessee. Other professional activity has included Corporate Relations Executive, Allstate Insurance Company, Northbrook, Illinois; Director University Relations and Development, the University of Maryland Baltimore County (UMBC), Baltimore, Maryland; Executive Director the Chicago Branches NAACP, and Field Director for the NAACP Mid-West Region.
Formal education was received in the Indianapolis, Indiana Public Schools; BA in Political Science, Central State University, Wilberforce, Ohio; MA in Urban Politics, The Johns Hopkins University, Baltimore, Maryland; the Master of Divinity, Vanderbilt University, Nashville, Tennessee; MA in Philosophy, Bowling Green State University, Bowling Green, Ohio; and a Doctorate in Theological Studies and Ministry, Drew University, Madison, New Jersey.
Courses: Research Interest: Community Service:
● African American Philosophy ● Du Bois as Philosopher ● The Jericho Project
● African Philosophy ● Miscellaneous Photos ● Wesley Foundation
● African Roots in Christianity ● Jefferson Street United
● Pragmatism (Special Topics)
● Globalization & Terrorism
● World Religion
● Religion In America
● Ethical Theory
Dr. William H. Hardy
Philosophy and Religious Studies
Tennessee State University
3500 John A. Merritt Boulevard
Nashville, Tennessee 37209
(615) 963 – 5002 Office
e-mail: whardy@tnstate.edu