Simon's Story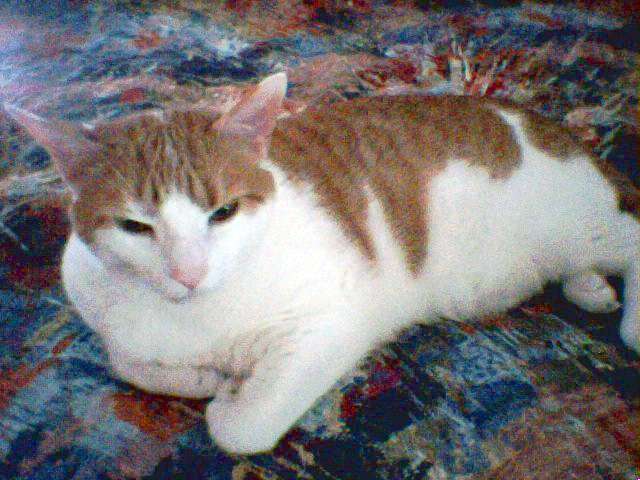 My name is Simon, Simon Templar Wheelwell Dickens, and this is the story of how I came to live with Dr. Dickens (I just call him Dad). Part of this I got from him, but most of it is from my own early recollections.
I got him to put in the illustrations, too.
I guess I was born in Portland, Tennessee, 'cause that's where the lady said she came from when she drove down to the Goodlettsville Fire Hall on Long Hollow Pike to have me rescued. I had got my front paw caught in the spring in the wheel well of her truck. Why she drove all the way down to Goodlettsville I'll never know, but hey, I was only five weeks old when this happened. Here is a map to give you an idea of that harrowing trip.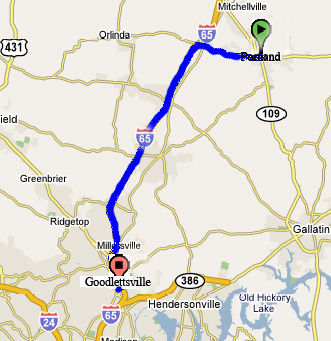 The firemen told her that they don't do cat extractions, but fortunately for me the fire Hall is just two doors down from Companion Animal Clinic. One of the employees happened to be out on a break and came over to see what was going on. She told the lady that she'd get me out. So I got rescued, but they put me in a big wire cage at the vets. I was not a happy camper! I bounced around all over that thing, giving my most ferocious five week old howls, to boot.
I was only there a day or so when my Dad came in. He had brought his older cat in to be put down. She had a cancer that she'd already had surgery for once before and they really couldn't do anything for her. Anyhow, he told the vet that he'd probably be on the lookout for another cat. The vet said, "Well, we do have this handsome wild kitten that we rescued just the other day..." Okay, maybe it was more like we have this really crazy kitten, but whatever she said, that's how my Dad found me.
Now my Dad seems to have this thing about names from fictional characters. My first and second names are from one of his favorite mystery characters also known as the Saint.

The Wheelwell part you've already been told.( My brother Duncan's name is MacLeod's Duncan, for the TV Highlander, Duncan MacLeod.)
Here I am being precious in my new home.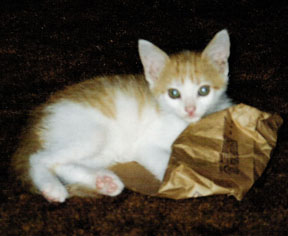 Oh, and I also got a surrogate mother, Mom's dog, Ginger. That's Ginger and me taking a nap.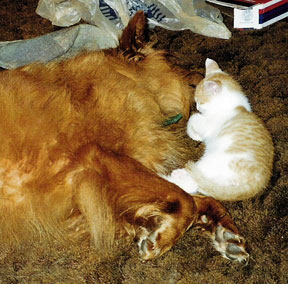 And me being adventurous on a really tall mattress. (I could climb up, but couldn't climb down.)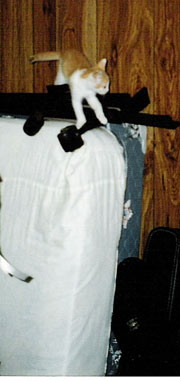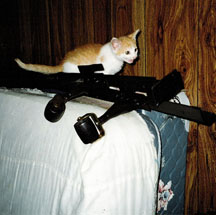 I have been really, really fond of cardboard boxes, even when I was a kitten.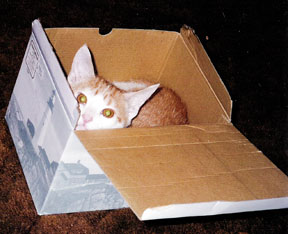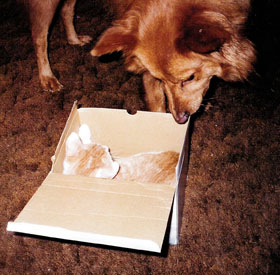 That's my mom, Ginger, again.
Now I've "grown into my ears," as my Mom likes to say. I'm a little over 18 lbs. now at seven years old.