Welcome to Dr. Samantha A. Morgan-Curtis' Website
Associate Professor of English and Women's Studies in the Department of Languages, Literature, & Philosophy
---
I teach courses in British literature (both Early Modern and Long 18th Century), writing, women's studies, critical theory, world literature, and cultural studies. My current research involves the writings of Elizabeth Tudor.
I am privileged to learn from and with my students every day, and I welcome speaking with potential English majors and minors.
---
Course Information
All of my current classes are web-enhanced via TSU's e-Learn system (powered by Desire2Learn): <https://elearn.tnstate.edu> .
ENGL 5330 Fall 2007 website for the Age of Reason
Reviewing for British Literature General Tests & Dr. David Curtis' guest PowerPoint on American Literature in 60 minutes for ENGL 4000
Contact Information
Dr. Samantha A. Morgan-Curtis
Dept. of Languages, Literature, & Philosophy
Tennessee State University
3500 John A. Merritt Blvd.
Nashville, TN 37209
Office: 121 Hum. Bldg. Phone: (615) 963-1536 Fax: (615) 963-5725 E-mail scurtis@tnstate.edu or samorgancurtis@hotmail.com
General "DMC" Information
Faculty Sponsor of the Alpha Alpha Eta Chapter of Sigma Tau Delta, the International English Honor Society <http://www.english.org>
Chair of the Women's Studies Coordinating Committee <http://www.tnstate.edu/womenstudies>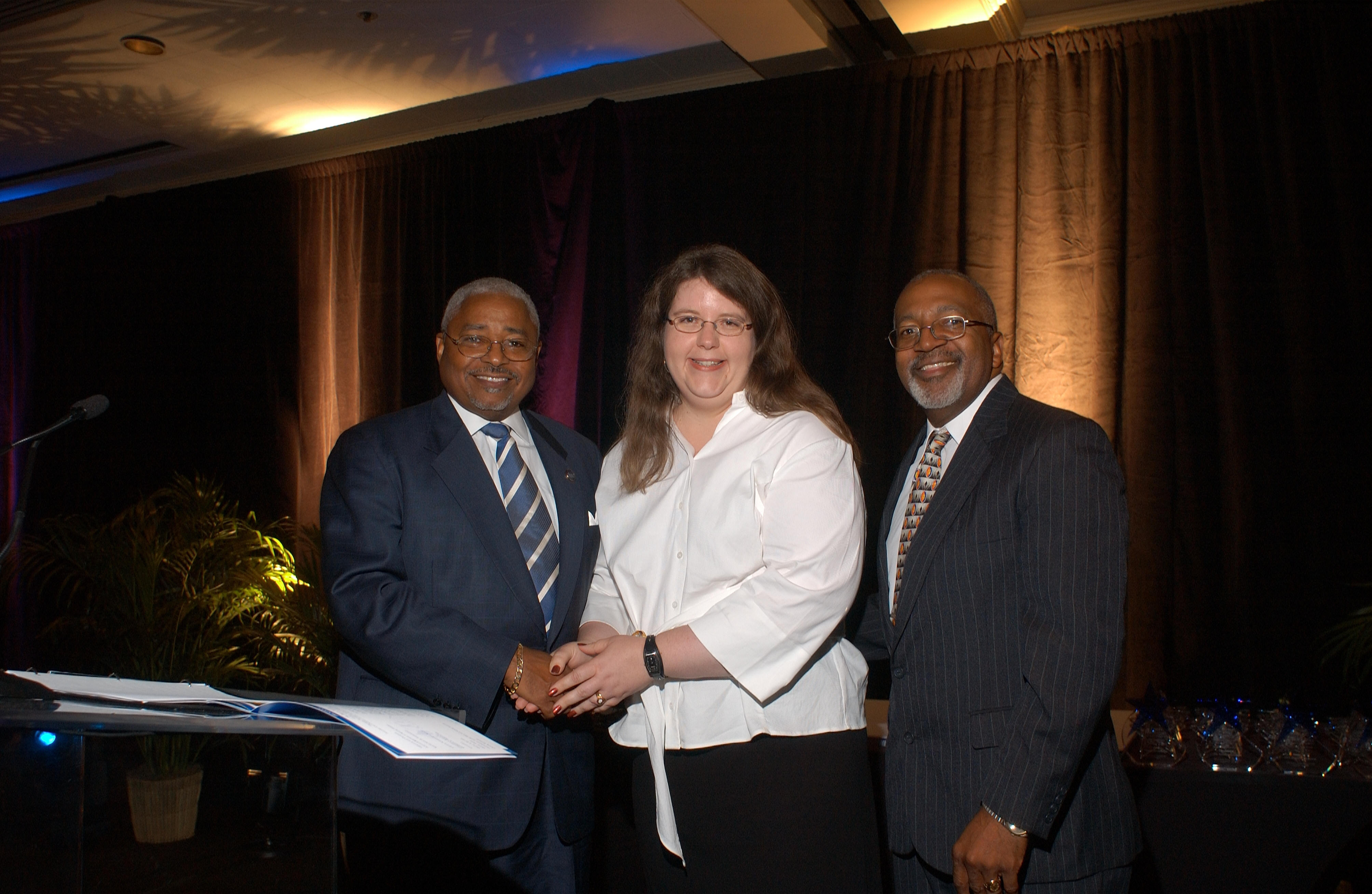 TSU Teacher of the Year at Blue & White Awards with Dr. Melvin N. Johnson, President of TSU, and Dr. Robert Hampton, Provost, Friday, August 17, 2007
Personal "DMC" Information
I am the mother of 2 school-age daughters and am married to David E. Curtis, Associate Professor and Chair of the Department of English at Belmont University.