TSU @ Vol-State K6 Licensure
Interested in Becoming a Elementary Teacher?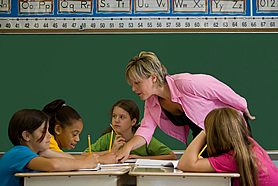 TWO CAMPUSES HELPING YOU TOWARD YOUR FUTURE DEGREE
Thank you for your interest in the Elementary K-6 Licensure Program in the College of Arts and Sciences at Tennessee State University. All courses required for this baccalaureate degree are offered on the Volunteer State Community College Campus, as well as on the main campus of Tennessee State University. Traditionally, students complete the Associate of Science in Teaching (A.S.T-K-6) at Volunteer State Community College.
HOW IT WORKS
During the second (or sophomore year), students begin the application process to complete the B.S. in Arts and Sciences with K-6 grade licensure. The program requires four semesters of course work including student teaching after completion of the Associate's Degree. The program leads to a BS degree in Arts and Sciences with K-6th grade licensure. It is a traditional day program with classes meeting between the hours of 9 am and 4 pm, two or three days per week. A new cohort group is accepted to begin the program every fall semester.
DEADLINE FOR APPLICATION for FALL 2013
The EXTENDED deadline for submitting Teacher Education Admission Application is July 15, 2013 for consideration for Fall admission 2013. Please note that admission to Tennessee State University and admission to the Teacher Education Program are separate processes.
Students must apply for admission to Tennessee State University prior to submission of the Teacher Education Application. Students may apply online to the university. Applications for the Teacher Education Program can be obtained here (Application) or at VSCC Gibson Hall 101. F
REQUEST MORE INFORMATION
_______________________